How to Become a Successful eCommerce Retailer 
Establishing an eCommerce business is a common dream; however, the realities of this dream can be trickier to deal with than you might initially imagine.
From sourcing the plastic pallets to shipping your goods to handling the financial side of things, there are many dull aspects to becoming an eCommerce retailer.
Naturally, when you first look into establishing yourself as an eCommerce retailer, your mind will be occupied by all the exciting aspects; however, it's important to remember that your days won't always be filled with excitement.
To that end, detailed below are some of the most vital steps for becoming a successful eCommerce retailer. 
Together With Klaviyo
Companies using Klaviyo see a 95x ROI (yes, 95x)
Use Klaviyo to turn hard-earned customer data into hard-working emails and texts.
Try the platform that 265,000 brands use to grow their business.
Make a Decision About What You're Going to Sell
First things first, you need to make a decision about what it is you're going to sell and find product opportunities wherever you can.
Finding a product to sell is probably one of the hardest parts of establishing an eCommerce site, as you need to find something that's unique enough that no one else is offering it but common enough that there's a demand for it.
As a result, you'll need to evaluate your idea to assess how it will sell before obtaining your products and selling these items online. 
Thoroughly Research Your Competition and Compose a Business Plan
Once you've got your idea, you need to determine what the competition is like, as you need to make certain that there's a demand for your product that isn't already being fulfilled.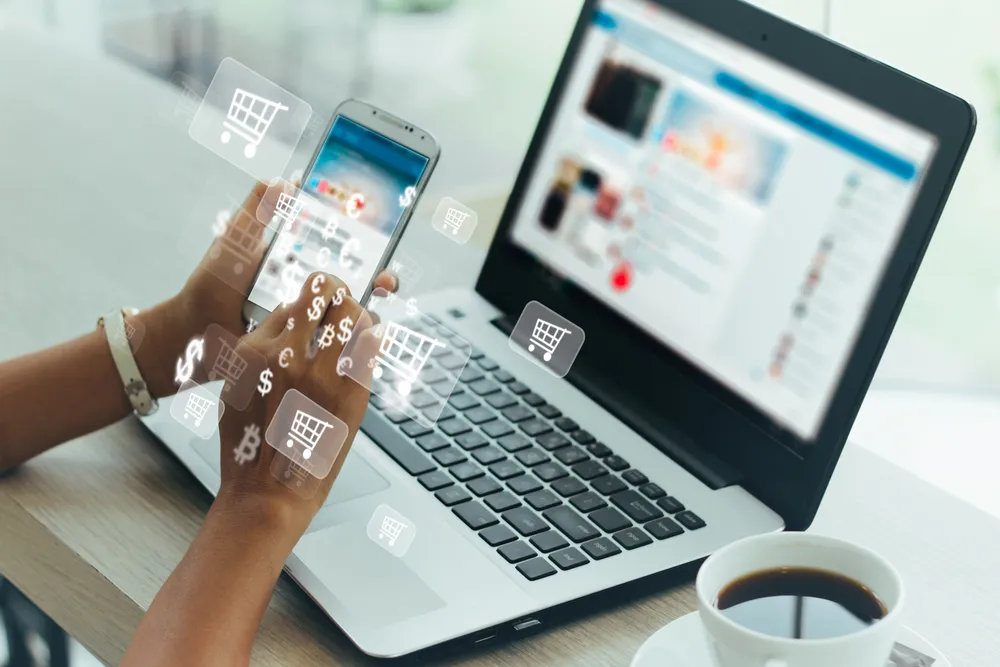 When you get an idea of what the competition is like, you can start to compose a business plan. This is essentially the roadmap that works to bring your thoughts and ideas together, allowing you to establish what should be prioritized.
Similarly, your business plan will include the company's mission statement, encompassing the brand's core values. 
Select a Name and Logo and Establish Your Online Store
Once you've got all these foundational aspects in place, the time comes to create the features by which your brand will be recognized. This includes your company name and logo.
It's important to select a name that represents the product provided by the company; however, you also don't want to be too restrictive, as brands can evolve.
For instance, have you ever thought about how outdated Carphone Warehouse's brand name is? Similarly, your logo should be eye-catching yet relevant to the brand.
Treading the balance between everything can be tricky, but it's essential to creating a successful eCommerce brand. 
Establish Your Marketing Goals and Select a Shipping Strategy
Multiple shipping and fulfillment elements need to be prepared. There are numerous aspects to a shipping strategy, including national shipping, international shipping, the reduction of costs, and so much more.
In addition to these features, you're going to need to define your key performance indicators straight away, as this gives you a foundation to track your success.
Similarly, you might want to put together a checklist of the essential tasks that need to be completed before the launch. 
Launch the Business
Naturally, the final step is the launch of the business! This will involve acquiring your first customer, marketing your store, and many other aspects. After all, the launch of your business is by no means the end of your hard work; in fact, it's only the beginning.
As well as fulfilling customer orders, you'll need to be constantly marketing to attract new customers and maintain the attention of the ones you already have.
It's a constant grind, but it's worth it for those who have a passion for their product and want to share it with the world. 
This is a Contributor Post. Opinions expressed here are opinions of the Contributor. Grindsuccess does not endorse or review brands mentioned; does not and cannot investigate relationships with brands, products, images used and people mentioned, and is up to the Contributor to disclose.

Promoted
Did you know that brands using Klaviyo average a 95x ROI?
Email, SMS, and more — Klaviyo brings your marketing all together, fueling growth without burning through time and resources.

Deliver more relevant email and text messages — powered by your data. Klaviyo helps you turn one-time buyers into repeat customers with all the power of an enterprise solution and none of the complexity.